FunPlus, one of the largest  independent mobile game companies in the world today announced that Guns of Glory, the free-to-play epic mobile strategy game developed by KingsGroup studio, has launched its latest and major expansion for the game. Featuring a brand-new story arc allowing players to embark on a legendary journey through the kingdom with new immersive and thrilling gameplay. Players can now download Guns of Glory for free clicking here and use the code WELCOMETOLOSTISLAND to get exciting in-game content.
Led by a mysterious adventuress, a legendary team has arrived on the continent, and players will have the chance to recruit these brave adventurers as their New Guards. With unique skills, they can help players gain advantages on the Lost Island. As the Lost Islands reemerges, players must prepare for the new gameplays & events, "Relic War" and "Treant Invasion" and more.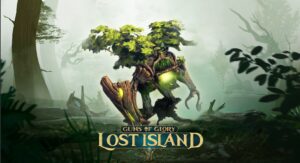 The "Relic War" event has four stages: Registration, Preparation, Battle, and Ownership. During the Battle Stage, players can attack Relic Ruins and defeat the enemy troops inside. Ownership of each Relic Ruin is determined by Alliance Points, which provide benefits to help players advance in the event. In "Treant Invasion", players must earn Treant Scrolls by attacking threats on the Kingdom Map. These scrolls can then be used to summon Treants, which players can attack by launching or joining a Rally. Alliance members will receive rewards at the end of the event based on the number of Treants they have slain.
In the depths of the sea, hidden treasure awaits. In the upgraded "Mermaid" system, players can unlock the Treasure Diving gameplay to find the buried treasure. New Mermaids are also available, and players can strengthen their rule by building relationships and sending gifts.
With the release of the new expansion, Guns of Glory also introduces several events, new skins, and powerful Guards that players can claim for free. Additionally, optimized content and convenient features have been added to better serve players on the battlefield.
'Lost Island' expanded the lore of Guns of Glory through a new story arc where, in a dramatic turn of events, the Iron Mask successfully led his troops to victory against the infamous Pirate King, "Blackbeard" Edward Teach. However, trouble is brewing as a horde of Ghost Pirates, cursed to suffer for eternity, has set their eyes on the Iron Mask. Reports suggest that the Ghost Pirates, upon hearing of Blackbeard's defeat, believe that Iron Mask's captured treasures contain powerful artifacts that can lift their curse and empower them to rule not only the Lost Island but the entire world. The Ghost Pirates have already arrived on the continent and moored their Ghost Ships by the shore, and without delay, they have launched an invasion on Iron Mask's territories. Fortunately, a mysterious adventuress from the Lost Island has joined forces with Iron Mask to combat the Ghost Pirates.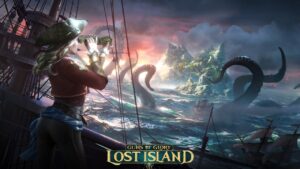 The latest expansion for Guns of Glory is now available for free download clicking here. Join the battle and become a legendary ruler of the Kingdom!
Click here to download assets for the latest Guns of Glory DLC.
For more information on FunPlus, visit http://www.FunPlus.com.
For more information on Guns of Glory, visit https://FunPlus.com/games/guns-of-glory/. Find a link to assets here.
About Guns of Glory
Launched in 2017, Guns of Glory is an epic mobile strategy game set in an alternate history in Europe. Players develop cities, build alliances, and train troops to join forces with the King and protect the realm from the Cardinal's treachery in a pre-industrial, steampunk-stylized immersive world. Guns of Glory is a global bestseller and has ranked first on the Apple App Store in 65 countries and on Google Play in 22 countries. 
About FunPlus
FunPlus is a world-class, independent game developer and publisher headquartered in Switzerland, with offices and operations in China, Japan, Singapore, Spain and the United States. Founded in 2010, FunPlus is an organization that fosters top creative talent with more than 2,000 team members worldwide. Ranked #1 Global Publisher in Strategy Games (2019 & 2020), FunPlus is home to KingsGroup studio who develops hugely popular mobile strategy titles including State of Survival, King of Avalon and Guns of Glory. FunPlus has also positioned itself in the RPG puzzle genre with Call of Antia. In 2021, FunPlus acquired Imagendary Studios, working on its first original AAA cross-platform project.

The company is also the founder of FPX (FunPlus Phoenix), one of the world's most successful esports organizations, and the 2019 League of Legends World Champions. Visit www.funplus.com to find out more. 
FOLLOW FUNPLUS

Guns of Glory
FunPlus