FunPlus, one of the largest  independent mobile game companies in the world, today shared its plans to expand into mobile game development in Barcelona, where the company's Western publishing arm is already established. The Swiss headquartered company thus reinforces its commitment to  Barcelona, a city which has recently communicated its ambition to become the next European hub of technology and gaming.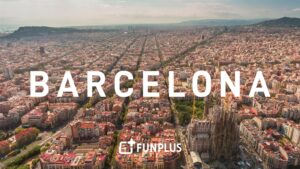 "Barcelona is a world-renowned center of excellence for talent in the mobile and video game space and we are honored to expand FunPlus' commitment to the city with our ambition to  develop new games that accompany the company's strategic ambitions" said Enric Cabestany, VP of Europe & LATAM at FunPlus. "This is just the first step in a very exciting journey that will allow us to grow as a team, recruit for key roles and find new opportunities to perform strongly and make Barcelona shine in the coming years."
As part of this evolution, FunPlus has promoted its former Director of Product Development and industry veteran, Felipe Mata, to the role of VP Product. The company has also  brought on Jacob Krüger as its new Director of User Acquisition. Tasked with expanding the UA department in Barcelona, Jacob joins the company with significant experience at Miniclip, Scopely and Social Point that will further strengthen FunPlus' operations.
FunPlus will work closely with the local government to establish the strategy and priorities for the development venture, with the intention of tapping into Barcelona's rich talent pool. FunPlus is also kicking off its first "Career Starter" in the Barcelona Office that aims to offer working students and interns the opportunity to access their first job experience and start their career in the gaming industry.
DeviCAT, the Catalan video game association, is a strong supporter of FunPlus' ambitions to expand into game development in Barcelona: "Video games are one of the sectors with the greatest potential in and for Catalonia, especially with regard to the creation of youthful and qualified employment" said Iván Fernández, Secretary General of DeviCAT. "Thanks to the drive of Catalan companies, our country has become the most attractive specialized talent hub for a sector with unstoppable growth. The ambition of our partner FunPlus to grow its presence here is another strong example of this."
This announcement further emphasizes the good health of the video game ecosystem in Catalonia. According to data from the Libro Blanco del Videojuego, Catalonia is the main motor in a sector demonstrating unparalleled growth in Spain, with 440 registered companies and €1,105 million revenue in 2020. Catalonia represents 50% of this national revenue, equivalent to 3.3% of the European industry. The region is home to half of the country's workers in the sector, with 3,966 people directly employed, of whom 25% are women. According to a recent report prepared by the local government, Catalonia is also the European region that attracts the greatest number of projects and investments in this sector.
With a brand new office in the center of the city, the original FunPlus Barcelona publishing team was established in late 2019 and has been gradually growing in size and scope over the past three years, with a focus on providing leadership and support for the company's portfolio of games in the areas of Community Management, Marketing/Growth and Creative Services. Since then, the company has continued to attract artists, technology and gaming professionals in the Barcelona region, more than doubling the size of its original team over the past year. The team is led by Enric Cabestany, VP Publishing, Europe and LATAM, a seasoned technology and digital media leader with more than 15 years of management and publishing experience. 
FunPlus has an impressive record of success that the Barcelona-based publishing and development teams will continue to contribute to. In 2022, State of Survival, the free-to-play strategy game available on iOS and Android celebrated an enormously successful first three years surpassing 150 million downloads, with King of Avalon and Guns of Glory also reaching major milestones with three-year and five-year anniversaries, respectively.
For more information on FunPlus, the Barcelona studio, and the entire FunPlus portfolio of games, visit http://www.FunPlus.com.
Find a link to assets here.
About FunPlus
FunPlus is a world-class, independent game developer and publisher headquartered in Switzerland, with offices and operations in China, Japan, Singapore, Spain and the United States. Founded in 2010, FunPlus is an organization that fosters top creative talent with more than 2,000 team members worldwide. Ranked #1 Global Publisher in Strategy Games (2019 & 2020), FunPlus is home to  KingsGroup studio who develops hugely popular mobile strategy titles including State of Survival, King of Avalon and Guns of Glory.  FunPlus has also positioned itself in the RPG puzzle genre with Call of Antia. In 2021 FunPlus acquired Imagendary Studios working on its first original AAA cross-platform project.
The company is also the founder of FPX(FunPlus Phoenix), one of the world's most successful esports organizations, and the 2019 League of Legends World Champions. Visit www.funplus.com to find out more. 
FOLLOW FUNPLUS