King of the Hill
Before Humanity's Final Hope was established and united the survivors, border clashes were frequent among the alliance-based regions due to resource scarcity, which eventually escalated into a devastating war.
Three major powers thus rose to prominence— Rust, Ember, and Verdant. Rust gained control over the industrial cities located in the southwest, while Ember took charge of the transport hubs in the central and eastern regions. Meanwhile, Verdant established its presence in the northern agricultural cities and river valleys.
In their struggle for resources and territory, the three factions waged a brutal war that engulfed all surviving communities, plunging everyone into chaos and uncertainty. The war ultimately paved the way for the establishment of Humanity's Final Hope, an organization aimed at uniting all survivors and building a future together in the face of adversity.
Get ready to flex your strategic muscles because King of the Hill, our highly anticipated strategy game mode, which is set to launch in May!
An epic three-Alliance war will put your tactical skills to the test as you battle it out to become the Ultimate Alliance. Only the strongest one will emerge victorious in this cutthroat competition.
New Season: Twisted Evolution
The success of Behemoth Mk I has given the mad scientist in the mysterious laboratory even crazier ideas. He used genes from animals, plants, insects, and even extracted genes of long-extinct dinosaurs, all in the pursuit of creating a brand-new Behemoth.
The Final Hope destroyed the laboratory, but they couldn't stop the rampant contamination. As the Dead Zones spread across the land, the twisted and incomplete Behemoth turned into a ruthless killing machine, consumed by its own distorted genes.

In the face of the Dead Zones and the ferocious Behemoth, the Chiefs of the Final Hope must unite and work together to eliminate these threats!
Twisted Evolution – Annihilation Awaits
Introducing a new narrative style! Dive deeper into the action and immerse yourself in the story like never before!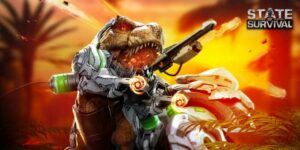 Season Version: Tumor
The Large Dead Zone has seized control of Devourer. Join the fight to cleanse the Plague Zone and earn valuable materials for the Twisted Evolution State Event!
Herbarium
The Herbarium is a room where you can continuously upgrade your abilities. Participate in the State Event to obtain materials of varying quality, and use these materials to upgrade the various specimens in the Herbarium. Each specimen can enhance your ability in different ways.
World Chat, Alliance Chat, Private Chat: Chat Emojis
State of Survival's new chat emojis are here to help users communicate their feelings with other players! Featuring your favorite Heroes like Nanami and Maddie, these emojis will enable players to convey their feelings accurately and instantly while chatting!
Canned Food Market: Optimized Stock Market
Humanity has been doing better in this post-apocalyptic world. Canned food production has increased, becoming the hard currency of this world and commonly used for trading. However, the financial nature of canned food has led organizations to team up to hoard supplies, increase their scale, and create a trading market for canned food where they buy and sell company shares. Opportunities and risks go hand in hand, and whether you get rich or go bankrupt is up to you.

Path of Water II Optimization: Introducing More Professions and Auto-play!
Enhancing the matchmaking experience and introducing the AI-based Auto-play when your teammate quits a match mid-way. 

Adding extra stars for the MVP of the match.

Adding a "friend request" option to the Settlement screen and allowing you to easily connect with new friends after a great game.

Expanding the selection of professions, including Master and Support, each with its own unique skills. Whether you're a master strategist or a coordination whiz, we've got the perfect profession for you!
HQ Animated Emojis: Pop-up Emojis!
Get ready for an all-new level of interactive gameplay on the World Map! With just a simple interactive move, you'll trigger an exciting new feature that adds an animated emoji on both sides' basements.
We've also introduced a new feature in the Skins section that allows you to set specific emojis to be displayed in different situations.
Match Mania: Alliance Ranking Matters!
Join the Match Mania craze and become a master! Picture a stack of cards in front of you, each hiding a treasure beneath its surface. All you have to do is match three cards with the same pattern, drop them in a designated place, and watch as they disappear before your eyes! Utilize powerful tools like Remove, Purge, and Retract to gain an edge and earn rewards for both yourself and your Alliance!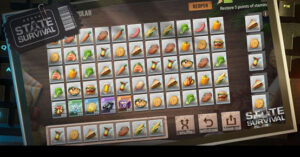 Aircraft Formation System: New Screen, New Levels!
Our Squadron has undergone a transformation, and the Aircraft pilots have been hard at work training for Coordinated Operation and developing a revolutionary Synergic Tactics system.
The system not only brings new tactics to the table but also enhances the strength of the Troops in every way possible. With this new feature, our Squadron has become more tactical than ever before!
This latest upgrade is a game-changer. Not only will you achieve stronger results with the same upgrading progress, but you'll also experience significant optimization improvements on your screen!
Hero Completion H7-H12: Starting with H7!
The stakes have never been higher as the threat of mutated Infected continues to loom large. Our Heroes Magnus, Cardini, and Grimm are ready to take on this challenge and reach Completion themselves to fight for humanity's future. However, if they can't do it alone, we need more brave souls to stand up and join the fight against the impending doom!
New Gameplay: Behemoth Trials
Dr. Yamazaki has shrunk those adaptable weapons down to size! After gathering tons of feedback data from the Behemoth Trials, he went ahead and tinkered with the potion's ingredients until it was just right to use on Heroes too. With the virus mutation wreaking havoc all around us, our Heroes have no choice but to take on this grueling trial. They know that the fate of our last remaining sanctuary rests in their capable hands, and they're willing to give it their all to keep us safe!
Survival of the Fittest: Gather Resources, Eliminate Foes, and Reign as the Sole Survivor!
Are you ready to face the ultimate brutal challenge? Hordes of the Infected are closing in from all sides, and only the strongest and smartest survivors will make it through. Drive your vehicle to dodge the waves and compete for the only spot at the Labyrinth City Entrance. You can gather resources from the map, fortify your troops, and use every means at your disposal to be the last one standing and claim your victory!
Building Cap Raised!
Dr. Yamazaki has made a groundbreaking discovery in plasma research, and we are thrilled to announce that we are about to obtain the key material to take our building plasma to the next level. With this technological breakthrough, we can also expect more advanced equipment and weaponry to fight off the relentless Infected horde.
Seasonal Showdown: Declare War!
New Season, New Foes: Choose and Conquer! With the latest gameplay, you can earn Alliance Points through both seasonal events and daily activities. But that's just the beginning! Get ready for an all-out war as you declare your enemy Alliance and attack each other's Attack Centers across the States. It's going to be a fierce battle with limited time, so make every move count! If your Alliance comes out on top, you'll get to claim a certain percentage of the enemy Alliance Points and receive a generous seasonal reward based on your Alliance and Individual Points.
SoS Mystery Banquet: Let's Party Together!
Join in on the victory party with your game character and enjoy a variety of Alliance celebrations in our new Banquet event!
Mining Mayhem Upgraded: Balanced and Strategic Battles On!
We've heard your feedback and have given the popular Mining Mayhem a new makeover! Get ready for more strategy, more balance, and more action on the battlefield!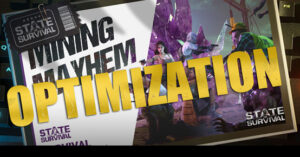 Follow us to know more https://linktr.ee/funplus