Greater Zurich Area, Switzerland — July 13, 2022 — FunPlus, a leading mobile game developer and publisher today announced a new real-action trailer for 'King of Avalon' starring the Hollywood movie star Orlando Bloom. Bloom recently made his debut as a playable character in the free-to-play mobile game which is inspired by the legend of King Arthur and players can download it now on Android and iOS. In this new version "Frost & Flame: King of Avalon" players can experience major game updates such as the game mode Tower Defense, a new unique American-comic art style as well as a new storyline; and from today, Orlando arrives as a free hero for new players
Watch the new real-action trailer of 'King of Avalon' with Orlando Bloom here.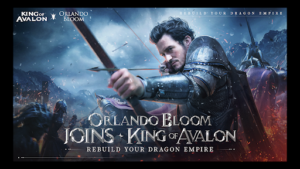 In this new trailer, the Knight Orlando fights fearlessly against an enemy army in 'King of Avalon'. But when his offense wanes, he needs to turn the tide of battle by ringing the war horn to enlist the support of a real-life Orlando Bloom who steps in to summon a dragon that turns the tables of the battle.
During the shoot, FunPlus also recorded  'Behind the Scenes' footage that you can watch here
"It was incredibly fun to shoot the new trailer of 'King of Avalon' with the FunPlus team" said Orlando Bloom. "Acting in medieval settings is something I'm pretty familiar with, but lending my likeness to a mobile game is new and it was a fun experience. I hope all the 'King of Avalon' players win many battles with Orlando the Nightshard!"
"Orlando the Nightshard has already become a fan-favorite hero in King of Avalon and we're excited to invite new players to the game to enjoy the character too" said Chris Petrovic, Chief Business Officer of FunPlus. "Orlando marks the beginning of a new era in 'King of Avalon', through a renewed  in-game art design, a brand new strategic mode called Tower Defense and a thrilling narrative that fans will love." 
Along with Orlando the Nightshard as a free hero for new players, Frost & Flame: King of Avalon unleashes other major updates in the game. This new version of the game includes a unique American-comics art style in the game, a new Tower Defense gameplay mode where players will have to deploy heroes and troops strategically to defeat waves of the Unmelted, a brand new deadly enemy, as well as a new immersive world setting and storyline, where the Unmelted approach Avalon. These mysterious creatures covered in snow and ice, have attacked the continent of Avalon in the harsh "Long Winter". Players will strive to lead various heroes to defeat the Unmelted and bring peace and glory back to Avalon.
In the new Tower Defense battles, players have to use the strategies of troop restraint, deploy different troops such as Bowmen, Spearmen, Swordsmen and Cavalry, but also heroes and dragons to unleash their skills to defeat the Unmelted when the difficulty level rises. In this new version, players also will have to build their cities in a brand new different way using new mechanics to assign jobs to their residents and restore their kingdoms after the attack by rescuing the habitants and exterminating the Unmelted.
Orlando Bloom arrives in 'King of Avalon' with a blockbuster storyline that now is part of the lore of the medieval strategy game. The new hero was a famed and respected leader of the knights, until the Unmelted appeared. One day, Orlando was attacked by the Unmelted in the Dragonshield Town, while trying to save others. Orlando disappeared, and a hero who looked like him but half-Unmelted was found. Players could explore more of his stories in the new in-game event: The Ballad of Orlando.
Find a link to assets here. 
'King of Avalon' is now available for free download on iOS and Android. Launched in 2016, King of Avalon is a mobile 4X strategy MMO inspired by the legend of King Arthur. Players must build a powerful empire from scratch by upgrading buildings, enhancing the strength of their army, forming player alliances, and conquering the surrounding world of medieval Europe. King of Avalon is a bestseller in nearly 70 countries and has more than 100 million global downloads. 
About FunPlus
Founded in 2010, FunPlus is a world-class, independent game developer and publisher headquartered in Switzerland and with operations in China, Japan, Singapore, Spain, Sweden, Russia, and the United States.

As an organization that fosters the best creative and diverse talent in the world, and employs nearly 2,000 people, the company has developed and published games that have ranked in the #1 spot in nearly 70 countries, including State 
of Survival, King of Avalon and Guns of Glory.
FunPlus studios include KingsGroup, Puzala, Seven Games and Imagendary Studios, each with a focus on developing a unique brand of innovative games for global audiences. 

FunPlus is the founder of FPX(FunPlus Phoenix), one of the world's most successful esports organizations, and the 2019 League of Legends World Champions. 
FOLLOW US
King of Avalon                                        
FunPlus
Contact: 
Jamie King 
BHI, a division of 42West