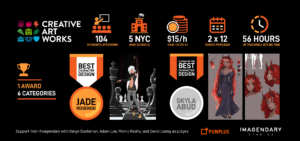 FunPlus and Creative Art Works, a 35-year-old nonprofit that empowers young people through the visual and multimedia arts, have announced the winners of their second collaboration on a Character Design Apprenticeship. Jade Rosendo, the artist behind the character 'Miha,' has become the winner of the '2022 Character Award' chosen by the judges of the Award Ceremony and artists from Imagendary Studios involved in the program as mentors; Momo Koshu, Adam Lee, David Luong, and Serge Souleman.
Artwork from the interns can be found in Creative Artworks Website here.
"We are very impressed by the incredible work and talent that the interns have displayed in the Character Design program this year!" said Wei Wang, Chief Creative Officer of FunPlus. "For us, as artists in a video game studio, it has been so inspiring to see a brand new group of students developing their projects and bringing life to amazing characters by unleashing their creative potential. Once again, we are extremely proud  to be part of the incredible work that Creative Art Works is performing in New York City."
During the 5 month-long Character Design Apprenticeship, program participants created more than 100 fully-realized characters with a backstory, personality traits, strengths and weaknesses. Over the course of twelve weeks, with 104 students attending 56 hours of lectures and teaching time, interns were paid NYC minimum wage of $15/hour. FunPlus artists and creatives from Imagendary Studios provided critiques of the participants' work, career advice, and advanced lectures on topics such as body shape, silhouette construction & anatomy, storyboarding, costume/prop design, color scripts, environment & background design and more.
"We have wrapped up another successful edition of our Character Design program and are grateful for the support from FunPlus, Imagendary Studios and all the personnel involved in the five NYC High Schools hosting the program", said Brian Ricklin, CAW Executive Director and CEO. "The creativity of our young artists has exceeded our expectations this year. We are very proud of the interns and the characters they have developed, and especially of the positive impact this type of program has on these young people's lives." 
Along with Jade's winning character 'Miha', Imagendary Studios judges also chose Skyla Abud and her character 'Feonyx' as 'Runner Up for Best Character Design'. In addition to Imagendary Studio mentoring, CAW Teaching Artists Joey Jimenez, Brandi Martin-Yu, Clive Jacobson, and Sofia Pujol instructed the students in all the sessions of the program.
The goal of the Character Design Apprenticeship is to support underserved New York City teens and young adults, equip New York City High School Students with essential tools and skills; connect them with community, academic success, and career opportunities; while also inspiring them to reach new possibilities. FunPlus and CAW's apprenticeship officially kicked off on February 8th.
FunPlus has invested in the development of curriculum, Teaching Artist salaries, and other program costs with an eye towards creating a sustainable program. CAW offered the Character Design program at five New York City Career and Technical Education (CTE) High Schools, which offer students with disabilities, Multilingual Learners/English Language Learners, and students from traditionally underrepresented backgrounds equitable access to high-quality internships. The five schools are: Fordham High School for the Arts, Chelsea CTE High School, Manhattan Early College for Advertising (MECA), Urban Assembly Gateway School for Technology (UAG) and Information Technology High School.