FunPlus and Creative Art Works (CAW) have announced the winners of their third collaboration on a Character Design Apprenticeship. Rayna Lin, the artist behind 'Axl' was proclaimed the winner of the "2023 Character Design Award." Her character was chosen by the judges from FunPlus involved in the program; Eleanor Twilton, Fio Fuentes, John Hopson, Josh Burns, Juan García, Maia Raigorodsky, and Marta Selva 
Along with Rayna's winning character, FunPlus also chose Yumi Lu and her character 'Xion Von Zoahar' as 'Runner Up for Best Character Design'. Other distinguished character artworks were made by the following young artists:
"We are extremely impressed by the work and creativity that every young artist has displayed in the Character Design program this year!" said Eleanor Twilton, Global Head of PR and Communications at FunPlus. "We are proud of being able to be part of this program in collaboration with Creative Art Works, especially for the positive impact that this kind of project has on young people's lives."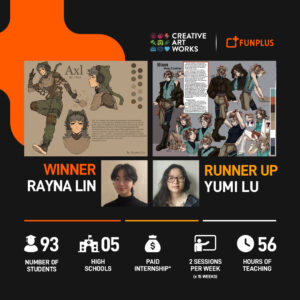 During the 15 week-long Character Design Apprenticeship, program participants created characters with a myriad of backstories, personalities, traits, strengths, and more. All of them are available to view here. During this period, the 93 participants attended 56 hours of lectures and teaching time, with the interns being paid for their time. FunPlus artists and games industry professionals provided critiques of the participants' work, career advice, and lectures on different design topics.
The goal of the Character Design Apprenticeship is to support underserved New York City teens and young adults, equip New York City High School Students with essential tools and skills; connect them with community, academic success, and career opportunities; and inspire them to reach new possibilities.  
FunPlus has invested in curriculum development, funding Teaching Artist salaries, and other program costs with an eye toward creating a sustainable program. CAW offered the Character Design program at five New York City Career and Technical Education (CTE) High Schools, which offer students with disabilities, Multilingual Learners/English Language Learners, and students from traditionally underrepresented backgrounds equitable access to high-quality internships. The five schools were: Bayside High School, Chelsea CTE High School, Manhattan Early College for Advertising (MECA), Urban Assembly Gateway School for Technology (UAG), and Information Technology High School.
If you want to know more about the Character Design Internship program from CAW & FunPlus, you can find all the information on CAW's website. More content from the program will continue to be shared on FunPlus' Facebook, Twitter, LinkedIn and Instagram and CAW's Facebook, Twitter, Instagram and blog.