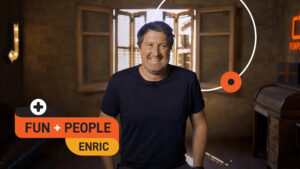 Enric is a seasoned technology and digital media leader with more than 15 years of management and publishing experience. Having Joined FunPlus in Sept. 2019 to lead all western market operations, Enric has been responsible for building the publishing operation for FunPlus in Barcelona.
Hi Enric, Can you introduce yourself?
I'm Enric Cabestany and I am the VP of publishing for Europe and LATAM at FunPlus. 
What FUN means to you?
Fun means to me that you enjoy everything that you're doing every single second of the day. As a VP of publishing I work really closely with the development teams in order to help them to market their games into the global markets. I do my job because I love games, I love the gaming industry, the tech industry, and the people who are working with us.
Why do you think FunPlus is unique?
FunPlus is one of the largest private gaming companies in the industry. FunPlus is unique because it achieved the goal of mixing different cultures of people working all of them together, finding the same goal. Mixing all these people and making them achieve those goals was the most successful thing that I've ever seen in any of these global companies.
Why have the publishing office in Barcelona?
We work in the Barcelona office. A really sunny place, a really beautiful city to work within the gaming industry. But the most important thing is that we work in a really really cool atmosphere, with really amazing people that love the games that we're doing. Barcelona is not just becoming a solid Hub in the Spanish industry. I think that Barcelona became actually one of the largest hubs in Europe for the gaming industry, and that's one of the reasons why it's attracting a lot of talent from all across the globe into this nice city. I will say not just for the gaming industry, but also for the tech industry itself.