Guns of Glory,  the free-to-play epic mobile strategy game developed by leading mobile game developer and publisher FunPlus and its KingsGroup studio, announces the launch of a new DLC called 'Tale of Twin Kings' where players will have access to a new storyline based on the tale of Louis XIII, the new challenger, and brand new troops to train in two themed buildings: the Merc Dock and the Merc Arena. The new expansion pack is now available for free for all players with castle level 30 and above.
Click here to get to know all the details about the new expansion 'Tale of Twin Kings' in this video.
A new challenger to the throne has caused the whole Kingdom to fall into chaos. The people don't know where their loyalties should lie between one king or another. In these circumstances, players can look forward to this new expansion that will bring an intriguing new storyline via a new main story quest which will allow them to earn blue gems, a new reward that players can redeem to unlock and upgrade the troops available in the DLC.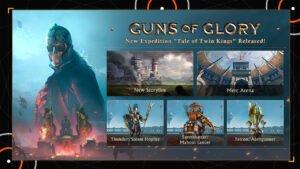 Players can unlock these new troops through a new building, the Merc Dock. In this new placement players can recruit powerful mercenaries such as Steam Hoplite, Mahout Lancer and the Aerogunner that have different tiers to upgrade their level.
In 'Tale of Twin Kings' players can assemble another new building, the Merc Arena, where they can research to upgrade their new troops turning them into tier 1 elite mercenaries. In addition to  unlocking new mercenary troops, in this building players will be able to enhance their merc based attributes such as attack, defense, health and their skill effects redeemed by blue gems.
Blue gems can be obtained by players completing main story quests within this expansion, from blue gem mines near the player's Sanctuary or Rallying Red Guard Camps level 15 or above. Red gems are necessary as well to recruit new mercenaries and increase their productivity and capacity in the Merc Dock, and can be obtained in red gem mines as well or by attacking level 35 threats.
Click here to download the assets for this new DLC of Guns of Glory.
For more information on FunPlus, visit http://www.FunPlus.com.
For more information on Guns of Glory, visit https://FunPlus.com/games/guns-of-glory/. Find a link to assets here.
About Guns of Glory
Launched in 2017, Guns of Glory is an epic mobile strategy game set in an alternate history in Europe. Players develop cities, build alliances, and train troops to join forces with the King and protect the realm from the Cardinal's treachery in a pre-industrial, steampunk-stylized immersive world. Guns of Glory is a global bestseller and has ranked first on the Apple App Store in 65 countries and on Google Play in 22 countries. 
About FunPlus
FunPlus is a world-class, independent game developer and publisher headquartered in Switzerland, with offices and operations in China, Japan, Singapore, Spain and the United States. Founded in 2010, FunPlus is an organization that fosters top creative talent with more than 2,000 team members worldwide. Ranked #1 Global Publisher in Strategy Games (2019 & 2020), FunPlus is home to KingsGroup studio who develops hugely popular mobile strategy titles including State of Survival, King of Avalon and Guns of Glory. FunPlus has also positioned itself in the RPG puzzle genre with Call of Antia. In 2021, FunPlus acquired Imagendary Studios, working on its first original AAA cross-platform project.¡

The company is also the founder of FPX (FunPlus Phoenix), one of the world's most successful esports organizations, and the 2019 League of Legends World Champions. Visit www.funplus.com to find out more. 
FOLLOW FUNPLUS

Guns of Glory
FunPlus