FunPlus, a leading mobile game developer and publisher, and its KingsGroup studio, announced that State of Survival, the free-to-play mobile strategy game is holding its first-ever edition of an annual tournament  known as Reservoir Raid: Doomsday Open. The tournament will see alliances from around the world compete against each other for glory and the ultimate prize of a coveted gold trophy. Players can now download State of Survival for free in AppStore and Google Play and on PC and use the gift code TOURNAMENT2023, which will provide resources, speed-ups, Biocap, and many more useful items.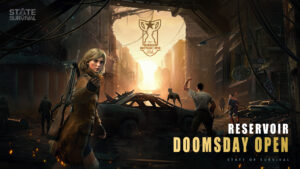 The annual Doomsday Open is a thrilling competition that will gather top players together to battle it out and will be live-streamed for other players to enjoy. The tournament will run from April 2 to May 24, and will feature intense battles and exciting competition. The kick-off will take place on April 2, with the Finals scheduled for May 21 and public matches wrapping up the event on May 24.
Watch the trailer of State of Survival Reservoir Raid: Doomsday Open Tournament here.
The more than 1000 States in the game will be divided into 27 Battle Zones. To participate in the tournament, players and the alliance must register between March 27 and March 29.  
For more information about the tournament and how to register, follow the game's social media channels (Twitter, Facebook, Instagram, YouTube, Discord). 
Find assets for the Alliances Tournament of State of Survival here. 
State of Survival is now available for free on AppStore, GooglePlay and PC. 
For more information on FunPlus, visit http://www.funplus.com. 
For more information on State of Survival, visit https://funplus.com/games/state-of-survival/. 
About FunPlus
FunPlus is a world-class, independent game developer and publisher headquartered in Switzerland, with offices and operations in China, Japan, Singapore, Canada, Spain and the United States. Founded in 2010, FunPlus is an organization that fosters top creative talent with more than 2,000 team members worldwide. Ranked #1 Global Publisher in Strategy Games (2019 & 2020), FunPlus is home to  KingsGroup studio who develops hugely popular mobile strategy titles including State of Survival, King of Avalon and Guns of Glory.  FunPlus has also positioned itself in the RPG puzzle genre with Call of Antia. In 2021 FunPlus acquired Imagendary Studios working on its first original AAA cross-platform project.

The company is also the founder of FPX(FunPlus Phoenix), one of the world's most successful esports organizations, and the 2019 League of Legends World Champions. Visit www.funplus.com to find out more. 
FOLLOW US

State of Survival
FunPlus