Greater Zurich Area, Switzerland — September 19, 2022 — Guns of Glory,  the free-to-play epic mobile strategy game developed by leading mobile game developer and publisher FunPlus and its KingsGroup studio, is celebrating its fifth anniversary on Android and iOS devices with a host of special in-game events and player rewards along with the introduction of the Twilight League.
To celebrate this anniversary, Guns of Glory has shared an infographic featuring milestones and data on players' performance that you can download here.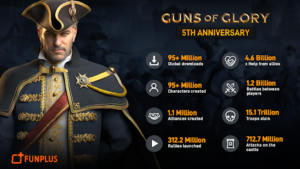 "We're impressed and grateful for the great performance of Guns of Glory over the past five years, as well as its growing community," said Chris Petrovic, Chief Business Officer at FunPlus. "We're close to celebrating our 100M downloads milestone, which reinforces the commitment of our KingsGroup studio to keep delivering an incredible gaming experience within one of the greatest franchises in the mobile strategy genre"
To commemorate five amazing years, the MMO strategy game will be hosting the Treasure Island Adventure event from September 19–October 16, offering a variety of themed activities:
Pirate Super Lotto

– Throughout the event, players have the chance to obtain Lucky Orbs, each containing a unique Lucky Number. When the Lucky Draw begins, random Lucky Numbers and winners will be drawn for varying prize levels, culminating in the draw of a single Lucky Star Jackpot winner in the final round at the end of the event. 
Treasure Hunt Competition

– Players can obtain Lost Treasures by participating in the Treasure Hunt event or by purchasing packs. Lost Treasures can then be submitted to the event page to increase one's event level and overall points, earning valuable stage rewards.

Surprise Crab Chest

– With all the crabs on Treasure Island shaped like treasure chests, players can try their best to catch a Crab Chest for a chance to score awesome rewards.
During the anniversary celebration, players can look back on five years of their Guns of Glory experiences by viewing and sharing their in-game achievements to the Memories page. Players also have the option to post their glorious achievements directly to their social media and can also receive special rewards for posting a Guns of Glory-themed photo.
The Guns of Glory anniversary celebrations also welcome a new event to the game, the Twilight League Championship Tournament. The Twilight League is based on, and expands upon the popular Darklands event, with a greater ferocity of competition and even more exceptional rewards up for grabs.
Beginning with the Qualifier Stage, the Twilight League will bring together the most powerful player Alliances within each battle region for a massive 256 team competition. With Alliances split into 32 Battle Zones, 3 rounds of Group Match play will send the top teams of each zone to the Knockout Matches, where the Battle Zone victors will be determined. The winners of each Battle Zone will advance to the Championship Stage, where 3 rounds of Group Matches will send the 16 best Alliances into the Knockout Match bracket. The victorious Alliance that achieved success throughout the bracket stage will have the honor of being crowned Champion over thousands of the best Guns of Glory players in the world. The Twilight League trailer is available here.
For more information on FunPlus, visit http://www.funplus.com. 
For more information on Guns of Glory, visit https://funplus.com/games/guns-of-glory/. Find a link to assets here.
About Guns of Glory
Launched in 2017, Guns of Glory is an epic mobile strategy game set in an alternate history in Europe. Players develop cities, build alliances, and train troops to join forces with the King and protect the realm from the Cardinal's treachery in a pre-industrial, steampunk-stylized immersive world. Guns of Glory is a global bestseller and has ranked first on the Apple App Store in 65 countries and on Google Play in 22 countries. 
About FunPlus
FunPlus is a world-class, independent game developer and publisher headquartered in Switzerland, with offices and operations in China, Japan, Singapore, Spain and the United States. Founded in 2010, FunPlus is an organization that fosters top creative talent with more than 2,000 team members worldwide. Ranked #1 Global Publisher in Strategy Games (2019 & 2020), FunPlus is home to KingsGroup studio who develops hugely popular mobile strategy titles including State of Survival, King of Avalon and Guns of Glory. FunPlus has also positioned itself in the RPG puzzle genre with Call of Antia. In 2021, FunPlus acquired Imagendary Studios, working on its first original AAA cross-platform project.
The company is also the founder of FPX (FunPlus Phoenix), one of the world's most successful esports organizations, and the 2019 League of Legends World Champions. Visit www.funplus.com to find out more. 
FOLLOW FUNPLUS

Guns of Glory
FunPlus