FunPlus, leading mobile game developer and publisher, and its KingsGroup studio announced that Frost & Flame: King of Avalon, the free-to-play mobile strategy game, will now be available on Windows in addition to its already successful lineage on mobile platforms. Frost & Flame: King of Avalon joins another of the company's hit games, State of Survival, also currently available on PC. Gamers can visit the official website to download the game's Windows version, in addition to the mobile version  available here.
In this PC version, players can experience enhanced performances, an improved QOL with the ability to play the game on a larger screen with a mouse, a multi-client feature that allows players to play with multiple registered accounts, faster loading times, increased stability, and exclusive offline events for PC players.
"We're thrilled to see the growing FunPlus portfolio of games coming to PC and providing our players new ways of engaging with them. Today Frost & Flame: King of Avalon, which recently celebrated its sixth anniversary and surpassed 100M downloads, comes to Windows reaching another major milestone for the game and the team," said Chris Petrovic, Chief Business Officer at FunPlus. "This is also a great opportunity for players to bring all their progress to their Windows devices as well as enjoying enhanced performance, faster loading times, and exclusive deals and gifts from Frost & Flame: King of Avalon on a different device."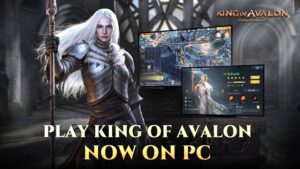 While many of the game's specs remain the same high quality as the title's mobile version, offering incredible modeling and features of the medieval universe that made the game a success in the strategy genre, Frost & Flame: King of Avalon now performs and looks better than ever on PC. Players can receive in-game rewards using the special code PLAYAVALONONPC when they play the game's PC Version. 
Since the game's release in July 2016, Frost & Flame: King of Avalon has become one of the biggest hits in the mobile strategy genre with its ever-evolving content and delivering new experiences and challenges to its loyal fans by hosting weekly events, competitions, sweepstakes, online and offline community events, including blockbuster partnerships such as  Orlando Bloom as one of the Heroes of King of Avalon. With more than 100,000,000 downloads, players from nearly 150 countries and countless recommendations, in Frost & Flame: King of Avalon players can unlock an immersive experience while making friends and enemies as they battle for victory. Contenders for the throne can chat, help, trade and wage war with players around the globe. 
Find assets for the PC version of Frost & Flame: King of Avalon here. 
For more information on FunPlus, visit Funplus.com
For more information on Frost & Flame: King of Avalon, visit the official webpage
About FunPlus
FunPlus is a world-class, independent game developer and publisher headquartered in Switzerland, with offices and operations in China, Japan, Singapore, Canada, Spain and the United States. Founded in 2010, FunPlus is an organization that fosters top creative talent with more than 2,000 team members worldwide. Ranked #1 Global Publisher in Strategy Games (2019 & 2020), FunPlus is home to  KingsGroup studio who develops hugely popular mobile strategy titles including State of Survival, King of Avalon and Guns of Glory.  FunPlus has also positioned itself in the RPG puzzle genre with Call of Antia. In 2021 FunPlus acquired Imagendary Studios working on its first original AAA cross-platform project.

The company is also the founder of FPX(FunPlus Phoenix), one of the world's most successful esports organizations, and the 2019 League of Legends World Champions. Visit www.funplus.com to find out more. 
FOLLOW US
King of Avalon                                        
FunPlus